Banff accommodations tend to fill up quickly during the peak summer months and winter ski season. Our advice to you, book your lodgings as soon as possible so you won't get stuck out in the cold. Banff receives upwards of 4.5 million visitors per year, most of whom come June through September and then again for ski season. Check with your chosen accommodations for ski packages and special promotions for wedding parties or romantic getaways.
Banff Hotels and Lodges
The Juniper Hotel and Bistro
Banff – Art-Eco Lifestyle Hotel offers the best mountain views due it's exclusive location at the base of Mount Norquay, only 2 kms from downtown Banff. This designer hotel features fifty-two accommodations including chalets with kitchens and king jacuzzi suites. Free wireless, bike rentals, outdoor hot tub and full service Bistro, Lounge and Patio. The Juniper is Banff's only 100% clean energy hotel and is a leader in environmental initiatives.
Website: Click Here!
Banff Inn
The Banff Inn offers modern hotel accommodations located on Banff Avenue, only minutes away from the downtown shops, restaurants and many of Banff's attractions.
The Inn features well appointed, renovated standard guest rooms as well as rooms with jacuzzi tubs, loft units, king rooms and honeymoon suites. All guest rooms are non-smoking and have complimentary wireless service, confidential voice mail and individually controlled air conditioning and heating.
Website: Click Here!
Stoneridge Mountain Resort of Banff & Canmore
Welcome to Stoneridge Mountain Resort, nestled among the majestic Canadian Rockies in Canmore, Alberta and just 15 minutes to Banff and Banff National Park. Enjoy our luxury suites Our accommodations offer comfort, space, and the perfect oasis for your next mountain vacation or business conference. Our Canmore resort is just a few minutes from Downtown Canmore.
Click here for Stoneridge Mountain Resort of Banff & Canmore
The Falcon Crest Lodge of Banff & Canmore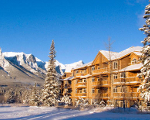 CANMORE, ALBERTA- Canada – Falconrest Lodge of Banff, Albert offers luxurious mountain accommodations located within minutes of Banff National Park. The Falcon Crest Lodge in Canmore offers the perfect setting for your next Rocky Mountain Retreat. As one of Canmore's finest hotels, Falcon Crest Lodge allows you to indulge with our hotel features and amenities including granite countertops, fluffy duvet comforters, pillow-top mattresses and unparalleled service. Just 15 minutes from Banff and close to golf, ski and the best things to do in the Canadian Rockies.
Website: Click Here!
Fill-up our Cabin Booking Request Form now!
Book Banff National Park Accommodations Thru TravelNow.com
Promo Code: 262501
Positioned across the street from the Upper Hot Springs Pool Complex, the Rimrock Resort Hotel in Banff is a distinguished property that overlooks Mt. Rundle. This hotel is Located three miles from downtown Banff and six miles from Mt. Norquay's ski runs.
The Fairmont Banff Springs Hotel rises over two scenic river valleys and is located less than one kilometer from downtown Banff, Alberta. Sulpher Mountain gondola stand is two kilometers from the hotel.
Brewster's Mountain Lodge is one of Banff's premier hotels providing warm, mountain comfort. Located downtown Banff, it's close to dining, pubs and shops.
Located two blocks from downtown Banff in Alberta, the Bow View Lodge lies directly besides the Bow River, where guests can rent canoes for serene boat trips. A tree-lined path outside leads to exceptional views of the surrounding Canadian Rockies.
On the slopes of the Canadian Rockies overlooking Banff, Alberta, the Buffalo Mountain Lodge is an ideal getaway for couples, outdoor adventurers and families. The Lodge is near pristine waterfalls, lakes and plenty of biking, hiking and skiing.
Deer Lodge is secluded within a National Park near Lake Louise Village in Alberta. The Lodge stands one kilometer from hiking trails and six kilometers from the Lake Louise Ski Hill.
The Lake Louise Inn in Alberta, features a lush, natural setting close to nature trails, scenic points and lakes. Shopping is available at Samson Mall, less than half a kilometer from the hotel. Thirty kilometers away is the majestic Johnson Canyon.
This Banff Hotel Is Close To Banff National Park Information Centre And Banff Lake Louise Tourism Bureau. Also Nearby Are Mount Norquay Ski Resort And Upper Hot Springs. Banff Voyager Inn Has An Outdoor Pool, A Spa Tub, And A Sauna. Business Amenities At This 2.0-Star Property Include Wireless Internet Access And Meeting Rooms For Small Groups. Banff Voyager Inn Has A Restaurant And A Bar/Lounge. Guests Are Served A Complimentary Breakfast Each Morning. Event Facilities Include Conference Rooms. The Staff Can Arrange Dry Cleaning/Laundry Services. Additional Amenities Include Self Parking And A Safe Deposit Box At The Front Desk. This Is A Smoke-free Property.