Lake Louise Accommodations
Accommodations fill up quickly in Lake Louise during the summer and the winter ski season. We strongly suggested you book your hotel, cabin, lodge or campsite early. Also, for those looking to stay in and around the Banff area, the town of Canmore is only a 15 minute drive and offers plenty of outstanding accommodations. Find some of our favorite lodging below.
The Juniper Hotel and Bistro
Banff – Art-Eco Lifestyle Hotel offers the best mountain views due it's exclusive location at the base of Mount Norquay, only 2 kms from downtown Banff. This designer hotel features fifty-two accommodations including chalets with kitchens and king jacuzzi suites. Free wireless, bike rentals, outdoor hot tub and full service Bistro, Lounge and Patio. The Juniper is Banff's only 100% clean energy hotel and is a leader in environmental initiatives.
Website: Click Here!
Skoki Lodge
Skoki Lodge is situated in a beautiful high alpine region in Banff National Park. The eleven kilometre trail from Lake Louise to the Skoki Valley makes Skoki Lodge an ideal destination for hikers and skiers of all levels. From Skoki Lodge one can access breathtaking mountain ridges and alpine lakes, or explore five different adjoining valleys.
During the summer months, the beautiful alpine flowers paint the landscape, while towering peaks against summer skies welcome you as you make your way to and around Skoki.
During winter, skiers of all abilities can find ski touring and telemarking slopes as well as a variety of cross country routes around the lodge.
Website: Click Here!
Stoneridge Mountain Resort of Banff & Canmore
Welcome to Stoneridge Mountain Resort, nestled among the majestic Canadian Rockies in Canmore, Alberta and just 15 minutes to Banff and Banff National Park. Enjoy our luxury suites Our accommodations offer comfort, space, and the perfect oasis for your next mountain vacation or business conference. Our Canmore resort is just a few minutes from Downtown Canmore.
Click here for Stoneridge Mountain Resort of Banff & Canmore
The Falcon Crest Lodge of Banff & Canmore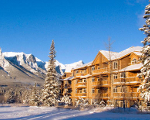 CANMORE, ALBERTA- Canada – Falconrest Lodge of Banff, Albert offers luxurious mountain accommodations located within minutes of Banff National Park. The Falcon Crest Lodge in Canmore offers the perfect setting for your next Rocky Mountain Retreat. As one of Canmore's finest hotels, Falcon Crest Lodge allows you to indulge with our hotel features and amenities including granite countertops, fluffy duvet comforters, pillow-top mattresses and unparalleled service. Just 15 minutes from Banff and close to golf, ski and the best things to do in the Canadian Rockies.
Website: Click Here!
Fill-up our Cabin Booking Request Form now!
Book Hotels in Lake Louise Thru TravelNow.com
Promo Code: 262501
Lake Louise Inn in Alberta features a lush, natural setting close to nature trails, scenic points and lakes. Shopping is available at Samson Mall, less than a half kilometer from the hotel. The majestic Johnson Canyon is 30 kilometers away.
Deer Lodge is secluded within a National Park near Lake Louise Village in Alberta. The lodge stands one kilometer from hiking trails and six kilometers from the Lake Louise ski hill.
Deer Lodge retains much of its original hand-made log features and décor, while architectural structures have been restored. A stone fireplace glows and a cedar sauna banishes the evening chill.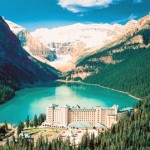 The Fairmont Chateau Lake Louise

The Fairmont Chateau Lake Louise sits eight-stories tall on the shores of Lake Louise. Surrounded by the Canadian Rocky Mountains, the hotel is adjacent to the plain of the Six Glaciers Trail. The hotel is less than five kilometers from the Parks Canada Information Center and 10 kilometers from Lake Louise Mountain Resort.
Perched at 1500 meters amidst the natural wonders of Banff National Park you will find this cherished Alpine chalet. Canada's largest ski area is just minutes away and the abundance of snow is just one reason a growing number of European skiers visit the area each winter. An award winning wine list and fresh market cuisine are featured in the renowned dining room.
Standing at the base of a placid aquamarine lake aeneath Yoho National Park's towering cliff-faced mountains, the rural Emerald Lake Lodge in Field, British Columbia, represents an ideal Rocky Mountain escape. You are within 30 kilometers, (20 Miles), of Lake Louise Ski Hill and even closer to pristine waterfalls and the Canadian Pacific Railroad's famous Spiral Tunnels. Outdoor adventure seekers can enjoy snowshoeing, cross-country skiing, hiking along numeroustrails, rowing or canoeing and fishing.