Opinionated Guides to Hiking the Canadian Rockies
Home » Alberta Adventure Guide » Opinionated Guides to Hiking the Canadian Rockies
When I'm on vacation in places like the Canadian Rockies, my time is important to me. And nothing irritates me more than spending a day on a hike that turns out to be less than spectacular, boring, or over crowded.
But as most hikers and backpackers know, hiking guide books often seem to use words like "beautiful," "awesome," "spectacular," and "magnificent" to describe just about every hike available. We know it's not true. Not all hikes are created equal.
Luckily, there are the opinionated hikers, Craig and Kathy Copeland. Together, this couple has gone out and done the foot work to find out which hikes are really worth your time, and which aren't, all around the Canadian Rockies. Want to check it out? I know you do. You can get a some full samples of their Canadian Rockies guides at CanadianRockies.net.
See their Canadian Rockies hiking guide, which includes The Skyline train in Jasper National Park, Crypt Lake in Waterton Lakes National Park, Cory and Edith Passes in Banff National Park, Burstall Pass near Canmore, and Lake Agnes in Banff.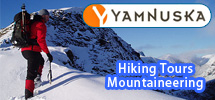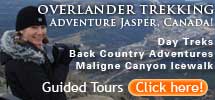 For further information on guided tours in the Canadian Rockies, fill out the blue form on the right side of this page.