Best Canmore Scenic Hikes
Recommended Hiking in Canmore
CANMORE, Alberta – When you vacation in Canmore, be sure to bring sturdy, comfortable walking shoes – and your camera. You'll be in  the great outdoors after all and there's no better way to experience it than getting out there and walking it.
Here's a quick guide to some of the highlights. Don't be afraid of the difficulty level; for a mountainous area most of these trails are, at worst, moderately difficult. And they're all well-worth doing.
Canmore and Regions
Gnassi Lakes – Moderate: We begin with a moderate hike of only five kilometers. What can you see in such a short distance? A lot, as you'll quickly discover. You begin just past the Canmore Nordic Centre at the base of the Smith/Dorrian Spray Trail. It starts as a fireroad, but almost immediately you'll turn left onto a trail through woods. Then, when you start climbing, you'll see a waterfall. When you reach the summit, you'll see the lakes, turquoise and green, like great jewels shining in front of you. Be sure to look for the native pictographs above the lakes. You can climb the short loose scramble to view them up close, but please be careful if you do.
Nordic Centre/Banff Trail – Varies: The paved trails near the Nordic Centre lend themselves well to cycling and inline skating. The variety comes into effect if you choose to hike the 20 kilometers to Banff.
Riverside Loop – Easy: Take a stroll along the Bow River for gorgeous scenery right in town. There's plenty of parking available downtown or on River Road.
Policeman's Creek – Easy: Another easy walk in town. This one is purely for relaxation. Keep an eye out for ducks in the pond.
Goat Creek – Moderate: Here's one that's a lot easier one way than the other. The 18 kilometer trail opens at the summit of Whiteman Pass and ends at the Banff Springs Hotel. In between is a drop of 291 meters (957 feet). For the most part, the trail is wide and smooth; much of it used to be a fire road. Mountain bikers love this one … going down, at least. They're not so keen to head back up! Come to think of it, walkers aren't, either. But hey, as you walk the length of Mt. Rundle, you get several beautiful vistas to feast your eyes upon.
Cougar Creek – Moderate: All right, this one steps up the challenge a bit. You set forth from the parking lot on Elk Run Boulevard. You can hike along the canyon or up the mountain; either treats you to spectacular views. But there are some very steep sections, so be aware.
No. 1 Minesite – Easy: Taking it easy again. This short, interpretive walk takes you into the past as you explore the historical No. 1 minesite. Walk a bit further along the creekbed and you'll reach Canmore's falls and its very own "cold" sulphur springs.
Grotto Canyon – Easy: Waterfall fans, this one's for you. You'll follow a narrow runoff channel until you reach a waterfall at the end of the trail. The valley of limestone has been polished smooth by the running water. If you think you see some fading pictographs, you probably do. Please don't touch them. They've been worn away by years of being touched by onlookers, or ignored by climbers who walked all over them.
Outside Canmore
Skogan Pass – Moderate: Time to head out into the country! This trail stretches from the Alpine Resort Haven to the summit of Skogan Pass mearly ten kilometers away. It follows a clear fire road most of the way up, and "up" is the operative word – it climbs 677 meters (2,221 feet) before cresting at the summit. You'll have much to explore along the way and be sure to check out the views behind you of Cascade Mountain above the town of Banff. You have the option of returning the way you came or continuing on to Ribbon Creek Trailhead at kilometer 20.3.
Heart Creek – Easy: You'll pick up the trail from a highway pullout, follow the highway briefly, and then turn upstream to follow Heart Creek as it flows toward Bow River. It's a leisurely walk with many steep limestone faces that are regularly challenged by rock climbers. It ends at a tiny waterfall around a corner, just beyond sight. If you don't mind getting your feet wet (in very cold water!), it's worth it to see the cascade. But when the water's high, stay on dry ground.
Heart Mountain – Expert: If you're tired of the easy stuff, we've got a challenge for you. It starts at the Heart Creek Day Use Area and follows Heart Creek Trail for a short while … but then it goes up the ridge. Once it starts going up, there's no end to the climb, not even a switchback, until you reach the summit. But see how the Bow Valley opens up beneath your feet as you climb. Experts only, please.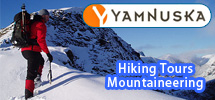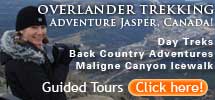 For further information on guided tours in the Canadian Rockies, fill out the blue form on the right side of this page.
For more information on Canadian Rockies accommodations: Click here!
For more information on Canadian Rockies activities: Click here!